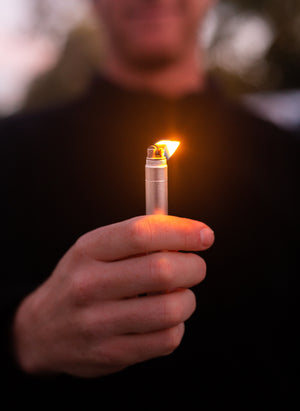 What is a joint holder?
There are two different types of joint holders; one that is a case to keep your joint secure and the other that you use to hold the crutch of your joint when you have smoked it to the bottom, commonly referred to as a roach clip. At Honest, we have created a joint case holder unlike any other. The Stashlight doubles as a storage tube for your joint and a lighter, two items in one. Read on to learn more about the benefits of our new product. 
Why do you need a joint holder?
Owning a quality joint holder is paramount if you smoke on a consistent basis. Everyone who has ever shoved a joint into your pocket, purse, or bag knows how frustrating it is to pull it out only to have a crushed or broken joint. You spent the time to properly roll your joint and now are left with crushed papers and lost weed. Having the proper joint case solves this problem. Never again will you be disappointed and have to salvage the crumpled rolling papers and grinded weed. With a proper joint holder case, like our stashlight, your joint will be secured in a metal capsule that is small and sturdy, ensuring your joint never gets crushed. Enjoy your next smoke sesh with the peace of mind knowing you will pull out the perfect joint. 
The Stashlight Joint Holder
The StashLight is the ultimate joint holder case on the market. A joint holder and lighter rolled into one, this small doob tube is a versatile smoking tool. With this device, we have solved another common problem that cannabis smokers like us always encounter; forgetting your lighter! Don't worry about bringing a lighter anymore, this device has a refillable lighter that ensures you always have a lighter on hand. Unscrew one end to reveal the lighter unit and unscrew the other end to access the storage tube. It is simple, sleek, and easy to bring everywhere. 
Another awesome feature, similar to our path pipe, is that it is smellproof. The lingering smell of weed fuming from all of your smoking gear can be annoying and even embarrassing at times. We try to eliminate that with all of our products. At Honest, we create innovative cannabis products for the modern smoker. Our smoking accessories are meant to blend in with common household items and never convey a messy stoner vibe. 
At only 4.2 inches long and a half inch wide this doob tool was made to be taken anywhere. You can easily carry it in your pocket or purse. Best of all, it has a keychain attachment so you can attach it to your keys so you always have it with you. Who doesn't need a keychain lighter? It uses standard lighter fluid, the same you would find in any Zippo lighter so you can easily refill it. The StashLight can hold joints up to 3.2 inches long. It provides a secure case for your joint while you travel to wherever you are smoking. 
Where to Store Your Joint Case
Now that joint cases are becoming more and more popular, it's important to know how to store them properly. The first thing to keep in mind is that joint cases are moisture-resistant, so they can withstand a little bit of humidity. However, you don't want to store them in an overly moist environment, as this can cause the joint case to warp and become brittle.
The best place to store joint cases is in a cool, dry place out of direct sunlight. A closet or cupboard is ideal, but any dark, dry spot will do. Just make sure to check the joint case periodically to make sure it's not getting too much moisture. With proper care, your joint case will last you for years to come.
A Customer Review
"Have the stashlight connected to my keys now. Love the keychain feature. Makes it so easy to carry everywhere so I always have a lighter on hand. Doob tube is perfect, smellproof as ever. A great joint holder"
-Dillion 2/28