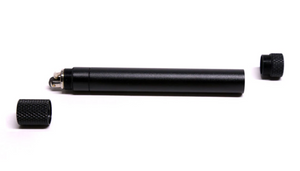 We all know the struggle of losing lighters like socks in the dryer. But let's face it, lighters are more than just a tool for smokers. They're a statement. A reflection of our personality and style.
That's why it's essential to have a collection of cool lighters that make you stand out from the crowd. And trust me, a good lighter never dies - it just gets cooler with time.
Although most people will use a standard Bic lighter that you can get nearly anywhere, we have an affinity for cool lighters. With the Stashlight, we created a lighter that doubled as a storage unit for your joint as well and eliminated a lot of the plastic waste from disposable lighters.
View
Rather than continuing to use your typical Bic lighter, give one of these a try to heighten your smoking experience. Below we have compiled a list of 5 of the most unique lighters people all over are using to light up.
5 Cool Lighters You'll Want To Show Off
1. Stashlight Refillable Lighter + Doobtube
The Stashlight is a refillable lighter and doob tool rolled in one. Twist one end off to reveal the refillable lighter, twist the other end to access your joint holder. Never forget a lighter again with this all in one smoking device. Roll your joint up, stash it in the metal tube and don't worry about the joint getting crushed or broken ever again.
If you're a cannabis consumer this is one of the coolest lighters on the market. It's a unique lighter in that it is dual functioning, the perfect stoner lighter if you enjoy smoking joints. 
Great for hikes, camping, or taking on the mountain while snowboarding, the Stashlight allows you to smoke anywhere. With a built in keychain attachment this will be the perfect keychain lighter to bring everywhere. The Stashlight is also airtight, making it water-proof and smell-proof so your cannabis consumption can be discreet if need be. This is a great start to getting your rolling tray set all set up. 


2. Scorch Torch Emissary Lighter
The Scorch Torch triple jet flame butane lighter is a beast of a lighter. The triple jet flame packs a punch and is probably best for lighting bigger objects like blunts and cigars as you might torch a joint too easily. Scorch Torch is the maker of premium lighters ranging from single jet all the way up to quad jet. The scorch torch is a really cool torch lighter. 
This particular butane lighter has adjustable flame control to make it safe and easy to use. Backed with a 1-year Manufacturer's warranty the Emissary is only sold on Amazon for $10.99. 
3. Saberlight Sparq Unique Lighter
The most technologically advanced lighter on our list, this cool lighter will have you feeling like you're in the future. The Saberlight Sparq is the ultimate plasma beam torch lighter. This rechargeable lighter uses plasma beams instead of a traditional flame making it splash and wind resistant.
As it is not a butane lighter you will not need to refill it ever, simply plug it in to recharge and you are set to smoke. One other great benefit is that its TSA approved so you can travel with it anywhere. If you are looking for a new electric lighter, this may be your new best smoke buddy. People naturally call this a fancy lighter, it just looks so futuristic especially when you're using it. 
4. Bolt Lighter
The Bolt lighter is a sleek and modern electric lighter that you'll be sure to show off to your friends. This cool lighter does not use a flame, instead the coil heats up when you slide open the cover. The coil looks like an old school stove top that gets bright red when heated up. This is an amazing lighter for a windy day due to the engineering behind it. No flame is actually produced, so this is completely windproof. 
The Bolt lighter is a compact lighter that comes with a carrying case making this a great lighter to bring on the go with you. This fancy lighter is a good one to carry in your car so you can always keep it charged. It really is a cool looking lighter. 
One downside to this cool lighter is that the small size only allows you to light cigarettes and joints, so smoking a bowl is not an option. Overall, the Bolt offers a unique design for those looking for a small rechargeable lighter. A cool lighter for stoners, the Bolt is an upgrade over anything you're currently using that is disposable. 
5. Colibri II Unique Lighter
Colibri is the maker of unique vintage lighters. The most expensive and advanced lighter on our list is sure to delight any high end smoker. The Colibri is a durable and powerful lighter. The easy to read blue blue fuel level window allows you to see exactly how butane lighter fluid is left in the cartridge.
The pachmayr grip makes this one of the safest lighters available. Wind resistant and altitude tested the Colibri is built for adventure so grab one of these for your next hiking or camping trips. Although it will cost you a pretty penny this lighter will last forever and will not disappoint. 
What Makes a Cool Lighter
There are many defining characteristics that make lighters interesting, beyond their basic function of igniting a flame. For starters, there's the design. Lighters can come in a wide range of colors, patterns, and materials, from sleek metallic finishes to eye-catching graphic designs. Some lighters even feature intricate engravings or embossed designs, making them true works of art.
Another defining characteristic is the type of flame. While most lighters use a standard butane flame, there are also torch lighters that produce a high-intensity flame for more precise and efficient lighting. Additionally, some lighters offer a soft flame option that is gentler on delicate materials like tobacco leaves.
The versatility of lighters is another factor that makes them interesting. From pocket-sized options to table lighters, there's a lighter to suit every need and situation. Some lighters even come equipped with additional tools, such as bottle openers or scissors, making them multi-functional tools for smokers and non-smokers alike.
What to Avoid When Buying a Lighter
When it comes to buying a new lighter, there are a few things to keep in mind to ensure you're getting a quality product that will last. One of the most important things to consider is the brand. While there are many cheap lighters available on the market, they are often made with poor quality materials and can malfunction easily. It's best to stick with trusted brands like Zippo, Bic, or Clipper, as they have a reputation for producing reliable lighters that are built to last.
Another thing to consider is the type of fuel the lighter uses. Some lighters run on butane, while others use lighter fluid. While butane lighters tend to be more popular these days, they can be more expensive and difficult to refill. Lighters that run on lighter fluid, on the other hand, are often more affordable and easier to refill, but they can be more difficult to use in windy conditions.
It's important to be cautious of counterfeit lighters, especially if you're buying online. These knock-off lighters can look nearly identical to the real thing, but they are often made with poor quality materials and can be dangerous to use. Be sure to only buy from reputable retailers and carefully inspect the product before purchasing to ensure you're getting the real deal.
Final Thoughts on Cool Lighters
Who doesn't like having a unique lighter? Look, there are all sorts of cool lighters out there.
You can get them in all sorts of shapes and sizes. You can even get them in different colors. 
Pulling out a bic lighter doesn't awe anyone, and if you smoke with friends or in social settings you might want to impress them with your unique lighter. Everyone likes to have unique lighters that people think are cool. 
Some cool lighters for stoners even have designs on them.
Not only that, but you can also get lighters that have cool functions, like we've shown with the multifunctional doob tube and lighter: the StashLight.
So if you're looking for a cool lighter, there's no need to settle for anything less than the coolest lighters.
Products in this article:
View