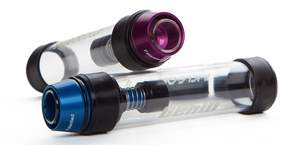 Have you ever heard of the Incredible Bowl? If you haven't, it's time to check it out. The Incredible Bowl by Incredibowl is a small pocket sized pipe made for dry herbs. Before you check it out, it's important to know this discreet pipe got voted #1 in 2011 at the Cannabis Cup in Colorado…Pretty cool right. 
Now we know it's 2020 and times have changed and new products have entered the smoking scene but it's pretty rad to have won an award at the Cannabis Cup. Here are some Incredible Bowl main points. 
The Incredibowl Mini m420 Features:
Made for Dry Herbs

Pocket-Sized Design

Shatterproof Chamber

Bowl with Built-In Glass Screen

Precision-Machined, High-Grade Aluminum Components 

Patented Filtration System

Available in 10+ Colors

Certificate of Authenticity

Lifetime Warranty
The Incredible Bowl can be for anyone, but especially those that want something that can fit in their pocket. This little pipe is a powerhouse in the hand pipe scene. Discreet as can be, this hand pipe is up there with the best of them.
Products in this article:
View