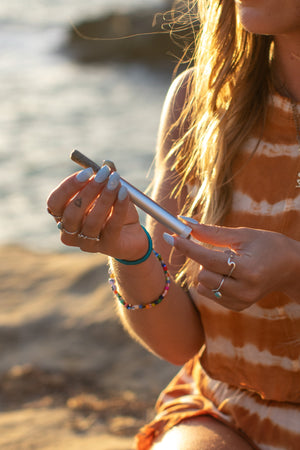 There are several reasons why you need smell-proof accessories for your stash. 
One, it keeps your weed fresh and prevents external factors from affecting its aroma and flavor. Don't keep your weed in a plastic container. You definitely don't want to smoke weed smelling of plastic.
And two, it also keeps prying eyes (or nose, for that matter!) off of you. These accessories help limit the smell emanating from your weed. We're in a world where cannabis isn't legal still in many places.
Remaining discrete with your cannabis might be really important, that's why we wanted to review these smell proof weed accessories for you. 
In this guide, we've listed for you 5 of the must-have smell-proof smoking accessories.
5 Best Smell Proof Smoking Accessories in 2023
A lighter and a doob tube in one? Give me some of that!
Smoke Honest's Stashlight is exactly what weed lovers need. The uppermost portion functions as a waterproof lighter, while the lower portion functions as a doob tube where you can hide a joint. The entire thing is waterproof and can attach to your keychain. The everyday carry crowd loves the ability to always have the keychain lighter available. This is the ultimate hiking, camping, and snowboarding cannabis accessory.  
The doob tube doesn't just serve as a smell-proof container for your joint though, but its metal casing also preserves its freshness, aroma, and flavor.
PROS: Built in waterproof lighter, durable, smell-proof, easy to use.
CONS: Can only hold one joint.
2. Stash It Diversion Safe Hair Brush — $17.95
You can stash just about anything in this multipurpose smell-proof accessory. You can hide some cash in it or store your jewelry and small valuables.
Of course, this hair brush also serves as the perfect hiding place for your buds and even joints.
PROS: Multipurpose, pretty affordable, discreet, smell-proof.
CONS: Breaks easily.
3. StashLogix Silverton Stash Bag — $49.00
A lockable smell-proof bag to hold your stash? This is exactly what StashLogix gives you.
This nifty bag comes with a 30-digit combo lock, OdorPax, and adjustable divider system. Its zipper is waterproof with a rubber gasket to keep the odor in.
This smell-proof bag comes in three sizes — small, medium, and large.
PROS: Can hold more stash (buds, joints, and concentrates), has three sizes, adjustable divider system, smell-proof.
CONS: Soft dividers and scent sometimes leak out.
4. SmokeTrap — $21.95
The smoke produced by weed has a distinctively sweet, piney, skunky aroma that clings to just about any surface. It also lingers in the air and gets on your clothes, a clear giveaway that you've just had some weed.
Now, there's a way to hide weed's cloying scent, all thanks to SmokeTrap's Personal Air Filter. Simply exhale into this smart little gadget and what comes out from the other end is odorless smoke.
This compact personal air filter comes in many designs and colors to suit different personalities.
PROS: Discreet, has many designs to choose from, affordable, smell-proof, really reduces odor by about 90%, easy to use.
CONS: Why hide the smell :)
5. UndurCuvur Odor-Proof Dugout System — $34.99
This innovative glass dugout is 2.5 mm thick with a thicker bottom of 7 mm. The glass is pretty durable and strong, and it can block out odor from escaping. It also blocks water and air from seeping into your stash and affecting its freshness.
PROS: Durable, lightweight, smell-proof, comes in two versions (with a side-window and windowless).
CONS: Pretty expensive.
Smell Proof Weed Accessories: The Importance
Cannabis still has a major stigma around the world. Even in states like California where it's been legal for years many people still try to remain discrete with their use. It's not like alcohol yet where everyone feels comfortable around it. If you're out and about and want to take some weed or a joint with you, you'll likely want to remain discrete. Most people don't want to smell like weed. 
Products like the Stashlight and Smoketrap are truly revolutionary in making it easier for you to smoke weed anywhere. It gives you peace of mind knowing that you can be discrete and still go about your cannabis. 
Products in this article:
View