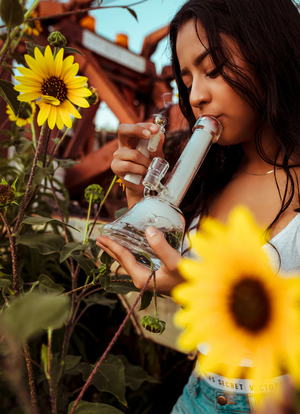 Searching for the best bongs online? This can be an incredibly overwhelming process - as the best water bong to one person may not be the best water bong to someone else. Further complicating matters, there are constantly new glass bongs being introduced to the market which boast new features and exciting designs. Couple this with misinformation, and finding the best water pipes can be seemingly impossible.
But we've got great news - your search ends here. No more stressing over what is supposed to be a fun shopping experience. We're here to share the best bongs in the world with you. We've carefully vetted the best water pipes ourselves to ensure you see nothing but the best on this list. If we wouldn't smoke out of it ourselves, you won't see it on this page. As glass connoisseurs and lifelong stoners ourselves, this is something we're very passionate about - and we're excited to unveil our top picks for you today. First things first - how did we select the best bongs online right now? Let's discuss our selection process for the best water pipes.
Our Selection Process For The Best Bongs Online
Part of the problem with people making their own lists of the best bongs online is that they provide no context for the list. Readers are left wondering how the list came to be? What went into the selection process? This is something that has always frustrated us when reading these types of lists - so we're going to share our selection process with you.
Real, Verified Reviews
We started with an in-depth scan of the web to find out what people like you and I deemed to be the best bongs in the world. Filtering through reviews left us is with a pretty good idea of where we should begin. From there, we carefully assessed the materials and craftsmanship that a company puts into its glass. Glassblowing is both an art and a science - and if a brand hasn't perfected its craft, they don't belong on this list. You'll only find high-quality borosilicate glass bongs crafted with care. These are durable as it gets in a glass bong and is sure to stand the test of time.
Unique Aesthetic
Of course, the aesthetic a water pipe offers matters, too. If a glass bong didn't catch our eye as we were searching, it didn't make the list. That means that on this page you're going to see some of the most eyecatching, stunning pieces of glass currently on the market. These are the type of glass bongs you'll be proud to show off to your friends. For more inspiration, take a look at the coolest bongs ever on this list.
Perfect Performance
But, you have to be careful when shopping for heady glass - because a really cool appearance doesn't necessarily translate to great function. A glass bong must offer superior filtration and thick, smooth, enjoyable hits to be considered among the best. The best bongs on this list are sure to meet your expectations in terms of performance. In fact, the #1 selection on this list is likely going to replace your current favorite piece!
Other Cool Features
Finally, we looked at other features like slits to hold ice cubes. An ice pinch always comes in handy for cooling down those fat rips, contributing to a more enjoyable smoking experience. Along with an ice pinch, percolator bongs can offer advanced filtration for your smoothest hits yet. While not every piece on this list is considered a percolator bong, we do have a few for you to shop from. One final piece of the puzzle is portability. A quality bong should be able to travel well - so you can take it over to a friends house or on quick weekend trips with ease. If a glass bong doesn't travel well or takes up too much space on your desk, it isn't really the best, in our opinion.
Top Bong Brands
Bong brands and water pipe brands seem to be growing every year. Here are some of our top Water Pipe Brands
Smoke Honest
Grav
Marley Natural
Roor
The Best Bongs In The World Ranked: Our Top Water Pipe Picks
Now that you know how we came up with our list of the best bongs in the world, it's time to actually get into the nitty-gritty of our list. We're excited to unveil our selections for the best water pipes currently on the market - these are sure to impress you and anyone who has the pleasure of taking a rip from them. We'd be lying if we said all five of these picks are created equal - while they're all great choices, one stands alone as the premier choice for the best water bong online. That's where we'll start, with our #1 pick:
1. Capsule Water Pipe — $200.00
There is no doubt about it - the portable water bong is our top pick for best bong online. Made with shatter-resistant glass, the Capsule Water Pipe offers a unique twist to traditional water pipes. The dishwasher-safe pieces can easily be disassembled for easy cleaning and storage, and you can even store all pieces inside the glass container.
But what sets this apart from the rest is that it can be customized to fit your needs, an all-in-one solution for cannabis connoisseurs. Its creators will soon be adding accessories like an herb grinder and swing-out base to store your weed in.
This portable water pipe produces clean, smooth, potent hits. You won't be wasting any cannabinoids with this one. If you're really looking for the best bong in the world, look no further - this is it.

2. GRAV Empress Bong - $200
GRAV is a well-known brand that has been around for over a decade. They are known for their high-quality glass bongs and pipes, as well as their innovative designs. GRAV offers a wide range of bongs to choose from, including beaker bongs, straight tubes, and recycler bongs. They also offer a variety of percolators, including their popular Helix percolator, which creates a swirling smoke effect. The Empress bong is a 13' glass bong with an extra wide base.  It is by far their most reviewed and loved bong online.
3. Zob Glass
Zob Glass is a popular bong brand that is known for their high-quality, American-made glass bongs. They offer a variety of designs, including beaker bongs, straight tubes, and recycler bongs. Zob Glass bongs are known for their durability and their smooth smoking experience. Most of Zob's bongs are made to order so expect a small wait window after you order.
4. Roor 14' Beaker
Roor is a German-based bong brand that has been around for over 25 years. They are known for their high-quality, handblown glass bongs that are made with the finest materials. Roor offers a variety of bongs to choose from, including beaker bongs, straight tubes, and custom-designed bongs. They are also known for their signature logo, which is etched into each bong. Roor's most popular bong is the 14' beaker bong. This is the smallest beaker they offer and really the most functional from a size standpoint. Roor is well known for large beaker bongs that have massive hits.
5. Illadelph
Illadelph is a bong brand known for ultra thick and strong glass. They are known for their signature coil design, which helps to cool down the smoke for a smoother smoking experience. Illadelph offers a variety of bongs to choose from, including beaker bongs, straight tubes, and custom-designed bongs. The crowd favorite tends to be Illadelph's 9mm ultra thick beaker bong. 
Final Thoughts On The Best Bongs Online 
That wraps up our list of the best water pipes online and throughout the world. We hope this helps you in your search for a clean smoke and a beautiful functional water pipe! Remember - if you're looking for the best bong on a budget, stick with the Capsule Water Pipe. It's as good as it gets, and is far more portable than any other glass bong on the market. You won't regret this choice. But if you want some more inspiration, take a look at our year-end review of the best weed pipes online! And while you're here, be sure to take your smoking experience to the next level with modern smoking accessories - these are a must see!
Products in this article:
View