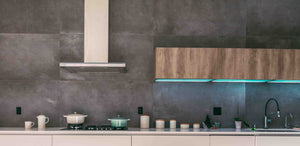 Designed in New York, and crafted in Portland, Yew Yew handcrafts their ceramic hand pipes. With a glossy finish, these oddly shaped hand pipes can fit anywhere without being seen as a smoking accessory. This woman led company crafts theirs cannabis accessories in beautiful pinks and greens. These hand pipes even offer a carb to control your smoke volume when you smoke bowls.
A fellow California smoking accessory company, Summerland Ceramics carefully crafts unique ceramics that fit perfectly in your hand or on the table. From apple shaped hand pipes to elegant ceramic bongs, these beautiful smoking accessories come in several natural colors. The bongs could very well pass for a ceramic vase, fitting into your living room easily. With none of these being glass, the hand pipes and bongs will hide the ash from any onlooker. These smoking accessories are featured in some of the most high-end LA cannabis dispensaries and smoke shops. These are the perfect bongs to smoke bowls out of while staying classy.
Nomatiq artfully creates all of their smoking accessories out of Gemstones. Just knowing that, one can only imagine the beauty in these smoking accessories. Nomatiq offers over 10 variations of smoking pipes, carefully crafted from unique gemstones. From rose quartz to obsidian, these cannabis accessories are made with steel or brass filters to prevent ash and herb from getting into your lungs. The hand pipes can blend right into your granite or marble countertop, or they can sit on top of your coffee table to add some flare.
Smoke Honest uses aircraft grade anodized aluminum to craft our Modern Hand Pipes. The Path Pipe has a sliding lid, that conceals the herb until one is ready to smoke bowls. Simply slide the lid, revealing the bowl, and smoke it. The Path Pipe also has a carb to control your smoke volume along with a genius path filtration system to filter our ash and cool your hit. Looking like an Amazon Fire remote, iPhone, or similar tech, the Path Pipe looks fitting on your coffee table without anyone ever realizing it's a smoking accessory. With it's ability to conceal smell, you really can leave this cannabis accessory out anywhere without anyone realizing it's main use.
Products in this article:
View