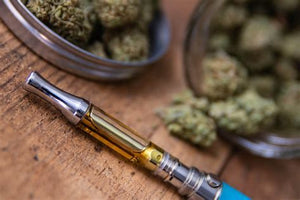 What is a weed pen?
A weed pen, also known as a weed "vape" pen is a small handheld battery powered device that holds a cartridge that is filled with a cannabis concentrate. The difference between a weed pen and a traditional weed pipe is that the cannabis is heated instead of burned. The heat in the weed pen becomes vapor while the burning of weed in a traditional pipe becomes smoke. Some people prefer weed pens because they don't create the usual smoke smell so they are more discreet. Additionally, weed pens require no dry flower to be picked or grinded in order to smoke. You simply need to charge or replace the battery and replace the cartridge every time it is empty.
Advantages of a Weed Pen
They're cleaner. Weed pens require no cleanup after use. Unlike most traditional smoking devices, vape pens don't produce smoke, ash, or greasy residue after smoking. 

They're more discreet. Since no smoke is produced, just vape, the normal weed smell does not permeate the room.

They're convenient. With no cleanup necessary and only the concentrates to refill, vape pens are a very convenient smoking device.
What makes up a Weed Pen?
Mouthpiece
The mouthpiece is located at the tip of the weed pen and it is the part that you inhale the vape out of.
Atomizer
The part of the weed pen that heats the oil and turns it into vape.
Cartridge
This is the part of the weed pen that holds the distillate oil that is heated and vaporized. Cartridges are either refillable or disposable.
Battery
The battery powers the weed pen so it can heat the oil into vapor. Batteries are either rechargeable with a USB charger or disposable. 
More Weed Pen Resources
Best Weed Pens
This ultra compact, discreet weed pens is one of the best on the market today. Equiped with a 1ML refillable gold glass oil or liquid tank and a .5ML cartridge cover included for free this vape pen will fulfill all your vaping needs. The 650mAh battery has a lifetime warranty and will surely last you dozens of intense puffs. As one of their customers said, "Excellent workmanship on this product. It works perfectly. I love the case thats provided which allows me to take extra care of it." The Kandy Pen Special-K weed pen will forsure satisfy your vaping desires.
The PCKT Onne Plus is another great option for vaping enthusiasts. A little bit bigger than most weed pens on the market, the PCKT One Plus has a sleek modern design that makes it look highly sophisticated. One major advantage of the PCKT One Plus is that it is compatible with any 50 cartridge. With a 660mAH battery and 3 practical power modes to suit your hardware desires, this weed pen has everything you could ask for. 
The Hermes 3 is another great weed pen that consumers love. Equipped with a revolutionary ceramic bowl atomizer that allows for use of any oil at any viscosity, this vape pen is high end. Because of this the concern of oil compatibility is a thing of the past. The Hermes 3 weed pen can vape all oil types, thick or thin. With the atomizer strategically positioned at the base of the weed pen, every last drop of oil is funneled to the ceramic heating element so absolutely none is wasted. This makes it an extremely environmentally friendly weed pen because you don't have to use disposable cartridges, you can simply refill the atomizer. All in all, the Hermes 3 weed pen is uniquely designed for optimal performance and zero waste. 
Check Out: "What is Aurora Canabis"
Products in this article:
View