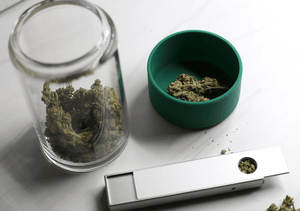 Best High End Stash Box for the Modern Home: Hide Your Stash in Plain Sight
Legalization of weed has made enormous strides over recent years — so too its social acceptability. Across the US, cannabis smoking is increasingly coming out of the closet — and so are our stash boxes.
Now you can find a stash box for every lifestyle and home decor.
From beautiful handmade wooden boxes to climate controlled humidors to modern cannabis furniture with integrated stash compartments.
In short: A high end stash box for your boutique weed.
That's why today we're going to take a look at some of the most ingenious, luxurious, unusual and innovative stash boxes around. The kind of boxes (and beyond) that literally class up the joint. Boxes you'd be proud to have on display — while still keeping your smokeables fresh, organized and secure.
What is a stash box?
A stash box is simply a container for safely storing (and often hiding) your cannabis and cannabis smoking paraphernalia — such as papers, lighter, grinder, vapes, pipes, rolling tray and so on — all in one place. Ideally, they're also airtight enough to keep your nugs fresh and keep any telltale smells from getting out. Many also include compartments and dividers to keep everything organized.
As such, over the years, smokers have improvised stash boxes out of anything from a shoe box to a jewellery box, tool box, tackle box, cookie tin or lockable cash box.
Purpose-made stash boxes have long been available too.
However, these days, the choice is seemingly endless with something to suit every budget, lifestyle and interior decor.
What to look for when choosing a high end stash box
Everyone needs something different from a stash box.
For some, it's just the convenience of having everything for a session all in one place. For others, the priority might be airtightness: to keep nugs fresh (and odors trapped inside).
For parents or pet owners, you might want something lockable and secure to keep out curious paws.
And with high end stash boxes: You get all of that plus the kind of aesthetics that elevate the room.
Naturally, aesthetics are a matter of personal taste.
But in terms of functionality, here's what you need to keep in mind:
Security
Probably the prime concern if you share your place with pets or children — or sometimes host nosy guests. You'll need something robust and lockable.
Fortunately, you can find stash boxes with everything from simple keys or combination locks to fingerprint scanners or even facial recognition. The latter (our first pick below) also includes sensors and a smartphone app that alerts you the moment the box is tampered with.
Discretion
While padlocks add security, they kind of give the game away that there's something valuable or secret inside. Moreover, the logos and designs many cheaper stash boxes have on their lids, make it pretty clear exactly what that might be.
A high end stash box, on the other hand, usually locks a bit more discreetly, has classier branding and should look like a natural part of your home. An item that's discreet without needing to be hidden. If someone remarks on it, it'll be because it looks great — up to you whether you reveal what's inside.
Speaking of which, it doesn't matter how discreet your box looks if it reeks of what's inside. Many boxes are odor proof and airtight for added discretion, as well as to keep your product fresh.
Organization
For those that like to keep their smoking kit organized, you'll find stash boxes with all kinds of (sometimes customizable) arrangements of nooks, dividers, hollows, layers, compartments and pull out boxes inside. Many also come with their own storage jars, built-in rolling trays, grinders, poking tools…
While others keep things more minimal and just give you plenty of space.
Materials
It doesn't matter how your home's furnished, you should be able to find something that complements or accentuates the decor perfectly. High end stash boxes come in all shapes, sizes, styles, materials, colors and shades. But if you're looking for something for outside the home too, you'll also find robust and lightweight options for travel.
The best high end stash boxes for smoking weed: From wake & bake to a part of the furniture
When we said "high end stash box" we meant it. None of these five picks is below $275. And the most expensive ones go way beyond the concept of a stash box.
Moreover, each is unusual, innovative, luxurious, cutting edge or some combination thereof — and wouldn't look at all out of place in your home.
Only our final two picks aren't lockable, but the first of them we included for its unique looks. And we thought we'd include at least one option that's ideal for travel.
The ultimate smart stash box: Keep
Taking wake and bake to its logical conclusion, this one's a stylish alarm clock… 
Yet it's also much more than that! 
Featuring biometric fingerprint and facial recognition unlocking (and even auto-locking if you forget to close it), it also has sensors that will send your smartphone an alert if someone so much as moves it.
Inside, you'll find an array of pods for organizing your stash. And yet more sensors — to monitor temperature and humidity, to keep your nugs fresher for longer.
Bluetooth and wi-fi enabled, you can monitor everything via a smartphone app that — for medicinal users — will even remind you if you've missed a dose.
Pretty much the ultimate stash box. And 2020 winner of Time's 100 Best Inventions.
Part of the furniture: Forti Goods
Forget stash boxes — this is stash furniture. A whole range of handmade cabinets, chests, coffee tables and side tables (that could also be nightstands) with Bluetooth and wi-fi enabled remotely lockable, odor-proof drawers and doors. Various wooden stash organizer accessories are available too. And thanks to the added size, you can even securely store your glass pipes, bongs, etc.
Aesthetics-wise, think modern minimal design, in a range of sustainable woods and finishes.
Extremely secure.
And no-one would have a clue that any of them housed your stash.
Forti Goods also donates a percentage of its sales to Marijuana Policy Project, the US's number one legalization and policy reform organization.
Cigar club luxury: Apothecarry Original
Made with cigar lounge-reminiscent luxurious dark wood and leather (albeit vegan-friendly), this is basically a humidor but for cannabis.
With a combination lock for security, inside you'll find a rolling tray, top quality grinder, four airtight storage jars, four dab jars, eight Boveda humidity control packets and plenty of space and organizational compartments for everything you could need to store inside. Each case is handcrafted and hand stained for uniqueness.
While this one's suitable for travel, Apothecarry also sells a travel range, as well as the Dabney for dabbers, and some even more unique Limited Edition models.
If Apothecarry's aesthetics aren't for you, though, check out Cannador's range of handcrafted wooden humidors instead.
For the Boudoir: Mae Stash/Humidor
No locks here, just a simple, elegant piece with fashion shoot looks. Made from Rose Gold-plated brass, under the lid you'll find a tray and below that two compartments for flower, pre-rolls and accessories. Also includes three Boveda humidity packs to keep everything fresh and potent.
Luxury at home or on-the-go: Life Essentials Made Neat Wooden Stash Box
Finally, something simple but luxurious. Beautifully built and hand finished, lined with 100% Italian leather (your choice of three colors) and available in one of three premium woods, it has the looks to be left on the coffee table.
But thanks to its design and size, it can also be taken anywhere. Magnets keep the box shut when travelling. And when opened, the interior of the brass-hinged lid becomes a rolling tray. There's room for a grinder, nugs jar (both included), papers and a lighter. Each box also includes a wooden poking tool.
Products in this article:
View