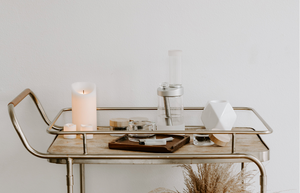 At most Thanksgiving dinners, the infamous post-dinner act of "taking a walk with the cousins" is the most weed you'll encounter. However, when you cut loose judgy Uncles and nosey toddlers in favor of a Friendsgiving, your 420-friendly options open up much more.
Hosting a 420-Friendly Friendsgiving  
The first step is to ensure that your guest list is down for a fully chill affair. While you'll still be providing plenty of options for those who aren't interested in consuming much — if any — cannabis themselves, you'll need to make sure that they don't mind being around it at the very least. Make your theme known when you send out the invites so everyone can know what they're getting into. 
There's a few different routes you can take when it comes to actually incorporating weed into your celebration. First, there's the most obvious: infused foods. Whether it be buttery mashed potatoes or a creamy pumpkin pie, your favorite traditional Thanksgiving fare can easily be infused with THC. Just decarb your weed in the oven (220ºF for 30-40 minutes should do the trick) and simmer in a fat of your choosing for 1-2 hours on low until combined. Then, mix it into any recipe you choose. Beware, though: the more you choose to infuse, the lower the dose will need to be to ensure the vibes stay right (a typical microdose is somewhere between 1 and 5 mg). Make sure there are plenty of non-infused options, and lots of water, for when the munchies set in. 
Weed Thanksgiving Setup
Another way to incorporate cannabis into your Friendsgiving is to set up a smoking section. While food and THC can mix, food and stale smoke don't: nobody wants the remnants of a joint blown in their face while they're sawing off a slice of cranberry sauce. If you have a balcony or large window, open it up and lay out some floor pillows and blankets for a cozy, conversation pit-style sesh spot. Be sure to grab a side table or two to set out plenty of ashtrays, rolling papers, and communal pieces within arms reach. 
420 Friendsgiving Decor
Now, for the decor. While traditional cannabis-themed party supplies are famously tacky, there are a few classier ways to incorporate your favorite plant into your harvest party. Adding a few hemp leaves (real or otherwise) to your floral centerpiece (don't worry, a nice bunch of grocery store flowers will do) and sourcing some vintage matchboxes will add a bit of visual interest without screaming "stoner."
Cozy activities will be a perfect way to wind down after your meal. Whether you'd rather throw on a movie or pull out a board game (make sure not to choose something too complicated), a bit of low key entertainment will allow your guests to ride out their high and digest for a bit before ending the evening. Lay out some disposable cameras for everyone to embrace their plant-based creative inspiration and keep a memory of the evening — even if they don't remember it.