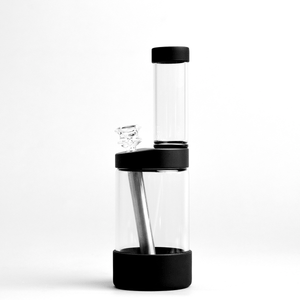 2 Best Water Bottle Bongs
The Capsule first started getting called a water bottle bong on Tiktok. Due to the Capsule size and structure, the base looks very similar to a pint glass. When the Capsule is disassembled and packed up, it is just bigger than the size of a can(see below). 
The Capsule's ability to pack up and be taken anywhere, much like a water bottle, make it super easy for those who like to take their bong on the go. The Capsule is made out of borosilicate glass, stainless steel, and anodized aluminum.
Your bowl piece packs right inside as well. This bong is so discreet when packed up nobody will ever know what you are carrying around. 
Puffco Budsy
The Puffco Budsy draws super similar looks to a Nalgene style plastic water bottle. You've definitely seen similar looking water bottles. Tons of people carry them on hikes. Although this bong is plastic, the bowl is ceramic which is key. The last thing you want is a plastic bowl piece. This bong is super discreet even to those who are familiar with smoking accessories. 

The Benefits of Water Bottle Bongs
To blend in discreetly while enjoying your smoke on-the-go, bongs that resemble water bottles are the perfect solution. They are easy to handle and carry due to their lightweight and convenient design. Additionally, these innovative bongs offer a smooth smoking experience.
Blend in discreetly - Perfect for on-the-go usage
Water bottle-like bongs offer a unique advantage for discreet and on-the-go use. Why? Let's explore:
Portability:

These bongs can easily blend into your travel gear. Whether you're walking, camping or out exploring, they won't attract attention.

Convenience:

Specifically designed for on-the-go use, they are compact, light and easy to assemble and disassemble. You can set-up your session quickly and easily.

Discreet Smoking:

The water bottle disguise not only looks inconspicuous but also reduces the smell. Enjoy your favorite herbs without drawing attention.
Easy to handle and carry - Lightweight and convenient
Water bottle bongs are perfect for on-the-go use! They are lightweight and easy to carry. Plus, their ergonomic design fits comfortably in your hand.
No spills or leaks - their sturdy construction keeps them secure.
Unique features enhance the experience - detachable parts for easy cleaning and customizable accessories.
So why settle for a basic water bottle when you can have one that helps you relax and unwind?
Frequently Asked Questions
What are bongs that look like water bottles?
Bongs that look like water bottles are water pipes that are designed to resemble a regular water bottle, with a mouthpiece and a bowl where the herb is placed.
Are bongs that look like water bottles legal?
The legality of bongs that look like water bottles varies depending on the state or country in which you reside. In general, products that are used for tobacco or legal herb consumption are legal.
How do you use a bong that looks like a water bottle?
To use a bong that looks like a water bottle, you fill the base with water until it is about a quarter full, then pack the bowl with your preferred herb. Light the herb and inhale through the mouthpiece.
How do you clean a bong that looks like a water bottle?
To clean a bong that looks like a water bottle, you need to empty out the water and remove the bowl and stem. Rinse the bong with isopropyl alcohol and salt, then rinse and dry off. You can also use a specialized cleaning solution to remove any stubborn residue.
Are bongs that look like water bottles durable?
Like any glass smoking device, the durability of a bong that looks like a water bottle depends on the quality of the glass. However, many bongs like the Capsule Bong that look like water bottles are made from thick, durable glass and can last for years with proper care.
Where can I buy bongs that look like water bottles?
You can find bongs that look like water bottles at some smoke shops and online stores that specialize in smoking accessories. You can buy this water bottle bong here.