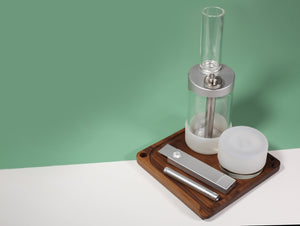 Sometimes, you just need to treat yourself to something a little extra, something luxurious. Luxury cannabis has exploded and not far behind are the luxury smoking accessories. 
So get rid of your old smoking accessories. If you're not cleaning them properly anyway, you're only risking your health from the buildup of residues and bacteria. And you definitely don't want that. 
We made this list of the 6 best luxury smoking accessories in 2023. These can be the perfect gifts to yourself or a special someone.
6 Best L

uxury Smoking Accessories
This luxury bong is in a class of its own. Every part of this bong has been thought through by amazing product designers and engineers. From replaceable parts in case you break any piece, to the way it packs into itself for travel, this bong is truly revolutionary. The bong hits well too. 
It's super easy to clean because the top screws off, allowing you to actually reach the inside of the bong with your hands. 
PROS: Replaceable parts, easy to clean, travel friendly.
CONS: Looks epic 
2. Shine Gold Rolling Papers — $11.00
If you prefer rolling your own joint, why not splurge on these Gold rolling papers? These are the papers you'll see rappers roll up with in their music videos. All Hype, not really. They do have real gold in them. 
These are ultra-thin papers, so you'd be enjoying more weed than paper. The papers are made from real 24K edible gold combined with a hemp blend to produce a super smooth smoking paper.
PROS: Gold is gold
CONS: Pretty costly for 1 paper
The Capsule station brings you the bong that was voted Best Bong by Gear Patrol and a walnut rolling tray made in Oregon. 
This combo is super easy on the eyes and helps keep your smoking set clean and organized. Add on an ashtray to complete the kit.
PROS: Storage for your luxury cannabis accessories. 
CONS: None
4. Elevate Accessories Colfax Dugout Kit — $75.00
One look at this dugout kit and you know it reeks of luxury. This handcrafted smoking accessory is truly impressive with its sleek, rich, natural wooden finish. Made with premium-quality wood and glass, you know that this dugout kit is built to last.
This classy dugout kit also comes with a pipe, which you can upgrade to a mini hitter.
PROS: Elegant design, comes with a pipe that's upgradable to a mini hitter, comes in different varieties.
CONS: Magnetic lid sometimes easily comes apart.
5. GRAV Clear Coil Showerhead Water Pipe — $179.99
The smoke GRAV's water pipe produces is truly luxurious. The smoke gets filtered by the water pipe's coil percolator and its showerhead downstem, giving you a creamier, smoother, cooler, and cleaner toke. The smoke hits hard, so be prepared.
This device comes with a funnel bowl and works best for flowers.
PROS: Clean and smooth smoke, premium quality, durable, and sturdy.
CONS: Pretty hefty.
6.

 

Path Pipe - $85 
The Path Pipe is by far the best travel pipe out there. It easily fits in your pocket, is unbreakable, and is super quick and easy to use. If you enjoy smoking weed while hiking, camping, snowboarding, or traveling then this is your new favorite. 
The path filtration technology filters out resin and ash to keep your hits smoother and cleaner. 
PROS: Clean and smooth smoke, unbreakable, and sturdy.
CONS: Heavier 
Best Luxury Cannabis Accessories Wrapped
Luxury cannabis accessories are becoming increasingly popular among smokers who are looking to elevate their smoking experience. These accessories are not only aesthetically pleasing but also functional, providing a smoother and more enjoyable smoking experience.
From elegant lighters and luxury bongs to high-end pipes and rolling trays, there is no shortage of options for those who want to indulge in luxury smoking. However, it's important to remember that smoking is a personal choice and comes with health risks, so it's always recommended to make an informed decision before indulging in this habit. Nonetheless, for those who choose to partake, luxury smoking accessories offer a touch of sophistication and glamour to an age-old pastime.
Products in this article: