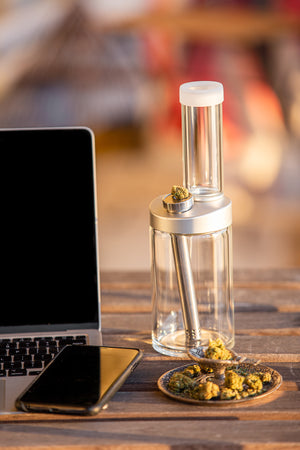 If you're like us, you take great pride in your glass selection. You're always looking for no glass bongs to add to your collection. Not only are these cool bongs fun to bust out when you've got company over for a smoke session - they're just fun to look at! And if this sounds like you, you are in for a real treat today as we unveil the coolest bong ever - and a few other incredibly glass bongs you have got to see to believe.
Celebrate 2022 with these crazy, cool bongs. Their quirky, unique designs will make you a proud owner. But unlike much of the heaady glass you see on Instagram or in your local head shop, these aren't just a gimmick. They go above and beyond their creative style to serve as glass pieces and offer smooth, cool hits that will have you feeling right.
We searched the net for the craziest and coolest bong ever with extra features, and this is our list for you. But before we get into the list - let's talk about what we deem to be a "cool bong".
What Makes The Coolest Bong Ever? Our Criteria:
To help you understand our thought process in building this list, we want to explain what makes the coolest bong ever in our opinion. We're confident that once we start breaking it down for you, you'll agree with us wholeheartedly.
Sure, unique, heady glass is cool - and if the bong doesn't look cool, it doesn't have a place on our list. It has to catch your attention and have that "wow" factor. But appearance isn't everything - otherwise, we would simply title this list the coolest looking glass bongs for sale. Instead, a bong has to also be cool and unique in its features.
What are some cool features a bong can have, you ask? Well, we love portable bongs in particular. There are some really unique pieces that we'll soon share with you which can be broken down and be highly portable. This makes it feasible to travel with your water pipe - something you won't enjoy with most heady glass. Those types of pieces are limited to in your home - you wouldn't dare try to take them to the park or over to your buddy's house. Another cool feature a bong can have is ice slits for holding ice cubes, as this will cool the hits and make your smoking experience more enjoyable.
The Coolest Bong Ever Unveiled: Our Top 5 Pieces
Alright, enough with the introduction. You now have a better understanding of our thought process in searching for cool bongs online. It's not just about appearance - but function and features, too. The coolest bongs in the world may look amazing - but how do they smoke? To us, that matters more than how it looks.
So, with all that said, allow us to introduce what we deem to be the coolest bong in the world: the Capsule water pipe.
5 Cool Bongs For The Best Hits
This capsule water pipe may not have the craziest design, but it's one of our top choices for the coolest bongs in 2022. Why? Simple! It's incredibly compact, with all pieces fitting inside the chamber when you disassemble the system for storage. This makes it super portable for on-the-go smoking sessions.
Another cool feature that caught our attention is it is highly customizable. You can add accessories (which the creators will roll out soon) like an herb grinder to personalize this nifty water pipe. The accessories can all stack together into an all-in-one smoking device.
And in terms of function, you really can't beat this thing. It's small but packs a huge punch. The smooth, deep hits it offers will delight even the most seasoned cannabis connoisseurs. Learn more about this unique, cool portable water bong here.
PROS: Sleek design, compact, portable, durable, customizable, easy to clean. Dishwasher Safe
CONS: Simple design.
2. Stundenglass Gravity Bong $599.00
When you see Wiz Khalifa smoking his Stundenglass daily you know this is the real deal. They even have a custom Taylor Gang Stundenglass. The only con about this high end gravity bong....the price. 
This gravity bong has is truly unreal. 
PROS: 10 year warranty, different colors, multifunctional, durable, can be used for dry herbs and concentrates.
CONS: Hard to clean.
3. Indonesian Hand-Carved Bamboo Bong — $179.99
If you are after a rustic, ethnic feel, then you'll love this Indonesian Hand-Carved Bamboo Bong. With a height of 16 inches and a flared mouthpiece, you're assured of smooth pulls without the backsplash.
It also has a deep bowl that allows more weed in. The depth is just right for the flavors to blend in, so you can savor your weed longer.
PROS: Different ethnic designs, deep bowl, removable downstem, flared mouthpiece, easy to clean.
CONS: Using hot water strips the water pipe's lining.
4. Machine Gun Bong — $328.04
Now, this is one unique bong perfect for gun lovers. This 20-inch Machine Gun Bong is shaped like an assault rifle, with the muzzle serving as the mouthpiece and the stock as the water chamber.
Its magazine and pistol grip make it easier for you to grip the bong and prevent it from dropping. So if you're pretty clumsy, then this one's definitely for you.
PROS: Comes with a matching bowl piece, extra grips to prevent dropping, durable.
CONS: Pretty expensive.
5. Star Wars Darth Vader Bong — $89.99
If you live and breathe Star Wars, then this cool bong deserves a home in yours. The design may resemble a regular bong, but its unique features make up for its simplicity. This water pipe has a percolator shaped like a showerhead, ensuring you smoother and cooler tokes.
This bong stands at a height of 20 cm with male joint type of 10 mm.
PROS: Showerhead percolator, sturdy and durable, Star Wars theme.
CONS: The design is a bit simple.
Final Thoughts On The Coolest Bong Ever
We've shared the coolest glass bong currently on the market with you - along with 4 other amazing water pipes you can consider adding to your arsenal.
Whether you want a borosilicate glass bong with an ice pinch or a gravity-style bong - we've got something for you on this list. If you want more inspiration, take a look at our article on the best bongs for sale right now on the market. There, you'll find even more variety to choose from - whether you want an awesome budget bong, a beaker bong, a gas mask bong, or anything in between.
So, what are you waiting for? Shop now and treat yourself to the glass you deserve!
Products in this article:
View