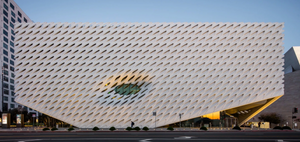 Los Angeles is widely known as one of the most cannabis-friendly cities in America. One of the first cities with a well-established recreational market in a state home to hundreds of acres of marijuana farms, L.A. is an absolute safe haven for stoners in non-legal states. 
Along with this recreational market comes a rich cannabis culture. You can stay outside in this sunny city nearly all year 'round, making the options for activities seemingly endless. Below, we've rounded up a few of our favorite spots — both explicitly cannabis-forward and not — to show you a high time in the city of Angels. 
LA's Consumption Lounge
The Artist Tree
Image courtesy of The Artist Tree
The Artist Tree is a cannabis consumption lounge in West Hollywood with a mission to not only mirror, but improve upon Amsterdam's world famous weedy coffee shops. Downstairs you'll find a standard, albeit highly stylized, dispensary offering some bud in all varieties nestled among bespoke murals. 
Upstairs, though, is where the magic really happens. The indoor lounge space is a bookshelf-lined clubhouse complete with leather chairs and blue-gray crown molding and the outdoor patio is a Pairisian-inspired terrace covered in wrought-iron furniture and striped umbrellas. Once seated, patrons are greeted with an iPad for a menu featuring accessory options from gravity bongs to electronic dab rigs and every type of consumable you can imagine (including deliciously booze-free cocktails). You order from your seat and wait for the sesh to come to you. Once you're served, feel free to smoke right where you're sitting — pretty amazing, right? 
Not only is this a one-stop shop to enjoy everything the L.A. weed market has to offer, the energy of being around like-minded stoners just smoking in the open is sure to lull you into a plant-based state of PLUR. 
LA's Best Place to Get High 
Lake Balboa
Image courtesy of Wheel Fun Rentals 
Take a deep breath — in through your nose, out through your mouth. You're going to the Valley, but it's going to be okay. 
While many in Los Angeles refuse to take the 101 anywhere above Sunset, the Valley has a wide array of weed-friendly oases to offer. Snugly nestled in the suburban safe haven, Lake Balboa is one of these spots. Multiple levels of walking paths surround the perimeter of the manmade lake to offer views of a rockslide  waterfall, a snaking stream, or the iconic swan paddle boats depending where you look. 
There's also acres of fields behind the main path, a perfect spot for sparking up (respectfully, of course). Bring along your Stashlight to store a doob and keep a light right where you need it. 
LA's Best Museum To Go To High
The Broad Museum 
Image courtesy of The Broad
A high guide wouldn't be complete without a modern art museum. The Broad is nestled in the middle of the city and filled with works from some of the most prolific names in the post-war art world, from Basquiat to Murakami. 
Though their core collection is perfectly suited for the plant-minded, their current exhibitions are the Crown Jewels. Keith Haring's Art is for Everybody explores the artist's bold use of color and iconic character work rooted in street art styles, while Yayoi Kusama's Infinity Mirrors rooms use light and reflection to mirror the vastness of the universe…trippy, right?
Best of all, general admission is free, meaning art really is for everybody — especially the stoned.
LA's Prettiest Dispensary
Wyllow 
Image courtesy of Wyllow
Back to the explicitly canna-forward: dispensaries. Unsurprisingly, not all of the hundreds in the city are created equal. Some hyper-modern, mega-monopolized, or sparsely supplied spots will quickly harsh your vibe, so it's important to put your buying power towards a mission you believe in. 
Enter Wyllow: a women-owned, social equity-oriented space where asking questions, exploring, and — most importantly — smelling are highly encouraged. Stocked with responsibly derived brands looking towards the future of equity and sustainability in this space, you're sure to find some bud that suits you. Take it home to your Capsule Water Pipe for the full experience. 
LA's Best Food Scene When You're High
Eataly
Image courtesy of Eataly
Okay, hear me out. Though Eataly is essentially the Disneyland of Italian cuisine, sometimes your craving for Europe is not actually based in reality. For example, I often find myself getting a hankering for a German beer hall despite never having been. You know where I have been? Busch Gardens. 
This venue provides all of the intrigue of Italy with all the comfort of a Cheesecake Factory. Get your fill of cool terrace evenings and a glass of dry red in the pure natural beauty of Century City.
Better yet, weed is legal in the state of this faux Mediterranean villa, meaning you're only a Path Pipe away from fully dissolving all your mental borders.