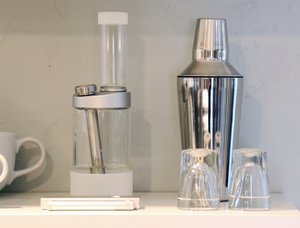 This Honest series explores the intersection of two of our favorite forms of self expression: smoking weed and personal style. 
The Smoking Section: Art Deco Style
While elegant cocktail glasses fill china cabinets around the nation, luxurious cannabis glassware lay in shoeboxes under the bed. Smoking weed is a ritual in its own right, and nothing kills the vibe quicker than having to ruffle around a layer of dryer sheets to pull out your piece. 
Your smokeware deserves to sit amongst the trinkets and the tchotchkes and all of the other little things that fill our lives with joy. Remember: stigma starts at home. 
Not to mention, interior design is now categorically the most popular iteration of personal style. From 2021 to 2026, the online home decor market size is projected to grow by $58.99 billion from 2021 to 2026. 
But while we all seem to be buying (and DIY-ing, thrifting, and Marketplace-ing) more home decor than ever, many of us are also truly learning about our personal aesthetic for the first time. Instead of relying on big brands pushing a new ripped-from-instagram aesthetic once a season, we're learning what we actually like — who would've thought! Today, we're talking about a style born from 1920s and 30s opulence, marked by bright jewel tones and bold geometrics: Art Deco. 
The Honest Capsule Water Pipe is the pinnacle of a functional way to bring a touch of Art Deco to your space and celebrate your love of the plant. Its modular style and color-blocked design harkens back to the classic style while its bottle-necked base and deep well offer smooth, full hits. Its richly metallic lid is available in stainless steel or black and silicone caps come in a rainbow of blue, green, pink, or gray to fully customize your piece to match your home's color scheme. 
The Capsule Water Pipe also includes a built-in poker to ensure you never compromise on style — toothpicks need not apply. Plus, you can stick your lighter on the magnetic lid to never lose it again. Keep it clean enough to keep out on the coffee table with ease by taking it apart and covering the base with the silicone boot to swish around a glug of isopropyl and salt. 
There's nothing more imperative to an ideal smoke session than mood lighting. The Art Deco aesthetic celebrates Gatsby-esque metals like the antique brass this vintage lamp is soaked in. This monochrome take on the classic banker shape keeps things classic while still challenging enough to incite a double-take. 
A product that will be instantly familiar to devotees of the late rapper Mac Miller, this mirror is directly inspired by the geometric beauty featured on the cover of his album The Divine Feminine. Even if you're not a fan, the reflective labyrinth design makes a wonderfully trippy addition to any stoner's lounge. 
Much like the Capsule Water Pipe, the Honest Ashtray is an absolute Art Deco smokeware essential. The thick borosilicate glass basin is far from fragile and its slip-proof silicone base matches the options on the bong, so you can mix and match to your heart's content.  
Besides adding a touch of style, you can peel the base off to cover the lid to quickly conceal the remnants of last night's session or drop it in your bag to have somewhere to drop your roaches wherever you go. Remember: nature is not your ashtray. 
This bold box is a cheeky spot to store your stash — and a nod to nature's very own chill pill. Offered in both brass and silver-plated, you can choose your favorite undertone to coordinate with the rest of your decor (cool-toned heads know this is more of a luxury than the gold-privileged might realize).