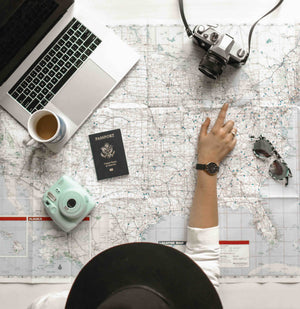 If you're a smoker who likes to travel, you know that it can be difficult to find a way to enjoy your favorite pastime while on the go. This is especially true if you don't want to pack a lot of bulky smoking accessories with you. Lucky for you, we've put together a list of 5 must-have smoking accessories for travelers! These products will help make your next trip more enjoyable, and they'll help keep you smoking in style. Check out our list and see for yourself!
Description: This Travel Pipe delivers a pleasant smoking experience anywhere you go. The winding smoke path cools and filters the smoke as it passes through the pipe, giving you an ultra smooth draw every time. The sliding cover lets you pack the bowl, and bring it securely on-the-go. When closed, the cover fully seals the bowl and smoke chamber, containing all odors within the travel pipe. A built-in poker ensures you're always ready to tackle a clogged bowls or dirty chamber. Made from aircraft grade aluminum with a tough and durable anodized finish.
This discreet smoking pipe will last forever, and includes a lifetime warranty to back that promise. No more broken glass. With it's sleek and compact design, this modern travel pipe fits comfortably in your pocket, and is easy to take with you wherever your path may lead. 
Description: Designed with the active cannabis consumer in mind, the DoobTool case and multi-tool is the perfect cannabis product to travel with. With 10 different tools and 20 different uses the DoobTool is the only all in one device you will need for your next cannabis adventure. Whether you are hiking, surfing, camping, or just traveling, the DoobTool can handle every aspect of your smoking experience. From a grinder card to a dabbing tool, the DoobTool administers to every type of smoker. Finally, with a case that can carry it all, the DoobTool can easily fit in your pocket or backpack to make it the ideal travel accessory. For those adventure seekers who also consume cannabis, the DoobTool is a must own.
Description: The Rowl Rolling kit is the best rolling kit on the market. For smokers who enjoy smoking a joint or a spliff, but find it hard to carry all the essential materials to make one, Rowll is the perfect product for you. It can be troublesome to bring a grinder, papers, and rolling tray on your smoking adventure. You may easily forget or lose an item that is vital to your smoking experience. With the Rowll Rolling Kit, you have everything you need to roll up the perfect spliff. With a grinder, rolling tray, papers, and funnel all packed into one, this rolling kit is perfect to travel with on your next smoking adventure. Travel better with your traveling smoking kit. 
Description: The Capsule is a portable bong that enables you to travel with it. It collapses into itself and fits in your cupholder or backpack. Secured with silicone on the outside, the Capsule is super simple to pack up and go. When you're at your destination simply unpack your bong and pack your bowl. You'll be ready to smoke in just 2 minutes. Now that's so much better than carrying your bong bag everywhere you go. 
Product: Roll Uh Bowl
Description: This foldable silicon water bong is the perfect companion for all your smoking adventures. What makes the Roll Uh Bowl unique is its ability to completely fold in half, so it is perfect to travel with. The Roll Uh Bowl is made out of foldable non-toxic silicon so you don't have to worry about smoking harmful chemicals. It's equipped with a silicon band that allows you to wrap the bong when folded so it can easily be packed for your travels. Additionally, the downstem and bowl tuck inside to make it fold into a compact unit. Available in a variety of colors so you can find the one that fits you. Overall, be sure to bring a Roll Uh Bowl next time you travel, whether you're on the slopes, trails, mountains, or beach, this is the perfect product for any adventure.
Products in this article: