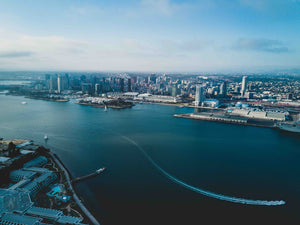 Table of Contents
Smoke Honest was born out of Southern California. Our products are designed to be discreet and modern smoking accessories so that you can take them anywhere.
San Diego has a very special place in our hearts, so we decided to highlight a few of our favorite places to get outdoors and enjoy our favorite past time.
These are our favorite spots in San Diego to smoke. If you're looking for smoking accessories designed in San Diego, click here. 
Updated 3/10/2023
5 Best Smoking Spots in San Diego
Blacks Beach 
Closest Dispensary: Torrey Holistics
Blacks Beach is located just north of La Jolla and south of Torrey Pines Golf Course. This beach is frequented by local surfers as one of the best surf spots in San Diego.
To make the trek down to the beach, take the Ho-Chi Minh trail; it's not for the faint of heart though, as it can be a bit treacherous at times. However, if you are a bit adventurous and like exploring the coastal area it's the best option.
Make sure you have all your smoking accessories before you embark as you won't want to go back. Also if you make it down to the sand, know that Blacks is a nude beach so be prepared for some naturism to go along with your smoke sesh.
For those who don't want to make the trek down to the sand, Blacks Beach lookout is a great spot to watch the sunset and smoke.
Located at the top of the cliff, closer to Torrey Pines Gliderport, this is the best spot to watch the sunset as you light up.
Balboa Park
Closest Dispensary: Apothekare
Spanning over 1,200 acres, Balboa Park has dozens of cool spots for your next smoking experience.
With several trails throughout the park, there are ample opportunities to light up as you hike or stroll through the park. If you like to sit and relax while you smoke, find a bench or stay in your car before you venture out.
A fun activity after smoking is visiting the Museums that are located on park grounds. The Natural History Museum, Timken Museum of Art, Automotive Museum, and Air & Space Museum are all very interesting to explore.
If you're interested in staying outdoors while high but still want to experience some fun, check out the Japanese Friendship Garden.
With koi ponds, bonsai trees, a teahouse, and garden tours, it's sure to peak your stoned intellect.
Sunset Cliffs
Closest Dispensary: Goldn Bloom
Sunset Cliffs is another great spot to watch the sunset during your smoke sesh. Sunset Cliffs is a very large area so there are several spots you can stake out for a good smoking experience.
Luscomb's Point, Sunset Cliffs Cave, and Pappys Point are the best spots. One thing to keep in mind about Sunset Cliffs is that it is a very popular spot, so it can get quite busy especially around sunset time.
It can be difficult to light up a bong or even a joint when there are so many people around, but you'll see ouid being smoked in this area...usually in the form of joints. 
For those who aren't comfortable with this, a discreet smoking pipe is best to hide the act and smell.
Overall, the coastal views at Sunset Cliffs are stunning and its sure to enhance your smoking experience.
La Jolla Cove
Closest Dispensary: Torrey Holistics 
La Jolla Cove is another great spot to smoke near the beach.
The large area offers several spots but we recommend the Coast Walk Trail. Parking isn't great however.
There is a small parking lot at the intersection of Prospect Pl and Park Row. This trail overhangs the cliff and provides very scenic views of the Pacific and surrounding houses.
There are also benches along the trail so you can stop and sit to enjoy your high. 
Mt. Soledad
Closest Dispensary: Torrey Holistics
Soledad Mountain is a popular cycling and hiking peak just east of the La Jolla Country Club.
This peak has panoramic views of the surrounding area to offer any smoker the ultimate visual experience. While there aren't a lot of specific spots to light up, the peak offers trees and plants to meander through to find a good spot.
At the peak is the National Veterans Memorial, so be mindful of those you are around.
Overall, the views from this peak are worth the trip up for your next smoking sesh.
That wraps up our top 5 smoking spots in San Diego.
San Diego is a place we will always call home and we hope you enjoy your session there. As always, hit us up if you need any other recommendations. 
Check Out: "Genius Pipe Alternative"
San Diego Bongs
We started out business in San Diego, so we've been everywhere there. Our products were designed in San Diego and we have San Diego in our company blood. Checkout our Capsule Bong, the perfect bong for your life in San Diego. 
Products in this article:
View