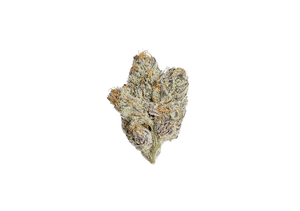 Fast acquiring a name for itself among discerning smokers, and already one of the more popular strains on the market, the Slurricane strain may need no introduction to some.
But for those of you that have only just heard of it and have yet to try, we thought it was high time (pun intended) we covered it on the blog.
Especially as it can give even experienced smokers a pretty potent (but relaxing and euphoric) hit.
We'll cover all the main points you need to know before you try. From flavor, terpene and cannabinoid profiles to who it's best for, effects, side-effects, where it came from and where to buy it.
(For another potent but relaxing indica-dominant hybrid strain, by the way, also check out our quick lowdown on the Super Glue strain.)
Strain Name: 

Slurricane Strain

Often strain names refer back to the strains they've been bred from. However, a bit more unusually, this one's named for its characteristic effects.

For one, it hits like a hurricane.

But also some super-relaxed users report slurring their words a little more than normal. (Though not too many, don't worry.)

And so, Slurricane it is.
Type of Strain:
60/40 indica-dominant. Meaning plenty of THC (as we'll see below) but not at the expense of flavor or therapeutic benefits.
Lineage of Slurricane Strain:
Created by micro-breeding specialists In-House Genetics (a High Times magazine seedbank Hall of Fame member), the Slurricane strain crosses two other indie favorites Purple Punch (parent strains: Larry OG and Grand Daddy Purple) and Do-Si-Dos (parent strains: OG Kush Breath and Face Off OG). Both of these are also indica-dominant hybrids. Slurricane inherits both their noted potency and a delicious combination of their distinctive flavors.
Distinguishing Features of Slurricane Strain:
If you hadn't heard of Slurricane, its buds are eye-catching enough that you might well ask your budtender 'What's that one?' It produces attractive medium sized, dark olive green buds with abundant white to violet trichomes and protruding orange hairs. The green can also veer towards purple, depending on how it's been grown.
In short, very instagrammable.
Cannabinoid Profile:
By some accounts, Slurricane can go up to 30% THC but it's usually around 28%. CBD content, on the other hand, comes in at around 0.1% or 1% CBG.
Like we said, it's seriously strong!
Terpene Profile:
According to lab tests, the main terpenes in Slurricane are Linalool, Caryophyllene, Terpineol, and Phellandrene. Also Limonene. 
Linanool gives a floral aroma and flavor, and notably can help with stress, anxiety and pain relief.
Caryophyllene has a spicy, peppery taste and is also associated with pain relief.
Terpineol gives a sweet, lime flavor.
Phellandrene, too, gives a little citrus, as well as woody notes. And aids digestion.
Finally, Limonene can give a variety of different citrus or even juniper flavors, and is associated with a number of beneficial medical effects, including anti-inflammatory, ant-bacterial and mood elevation.
Flavor Profile:
We all have slightly different palates, so your experience may well vary. But here are the main flavor notes reported by reviewers.
Overall, we're talking a sweet and fruity dessert smoke.
Aroma-wise, lemony with hints of berry and herby. While some describe the smell as intensely fruity.
Taste-wise, the Purple Punch side of its lineage gives it berry notes, while the Do-Si-Dos side imparts some cream, earth and spice. Some people report a tropical fruit taste too.
In terms of the smoke, users report thick, creamy but smooth, flavor-packed inhalations with a not-unpleasant gasoline finish on the exhale.
Effects of Slurricane Strain:
Even more than delicious flavor, the Slurricane strain has built its reputation on a particular, distinctive and fast-acting high.
A few minutes after the first toke, you'll start to notice a tingly effect creeping up the back of your head and down your spine… before all at once taking hold, knocking out negative thoughts.
From there, fast-growing blissful euphoria.
And then the body high. Tension dissolving. A warm cloud of complete relaxation, that can soon lead to couch lock and even sleep.
So grab what you need (snacks, drinks, the remote) and make sure you're someplace comfortable before lighting up.
The effects can be quite long lasting — both the happiness and the sedation.
Medical Conditions for Slurricane Strain:
Due to its sedative effects, Slurricane is often used by people suffering insomnia. Likewise, those with Chronic Fatigue Syndrome can also find it helps them get to sleep more easily. While the relaxing, euphoric effect can help with stress, depression, anxiety and even PTSD.
In addition, Slurricane has been known to help with the following conditions:
Chronic pain

Muscle spasms

Cramps

Migraines

Headaches

Low appetite

Fatigue
QUICK TIP:
If Slurricane sounds great, but you're worried about the lack of CBD, fortunately these days it's easy to supplement your intake with edibles, oils, a bowl of CBD flower or any of the many other products on the market.
Side Effects of Slurricane Strain:
For such a strong strain, surprisingly paranoia doesn't seem to be an issue here. However, according to reviews, you might get slightly more dry mouth than usual and/or dry eyes.
As for other side effects, it depends whether you consider some of Slurricane's normal characteristics positive or negative. Sleepiness, for instance. If you're looking for an energizing, buzzy strain, this isn't the one.
And if you're not used to stronger strains, you might want to take it slow.
Because otherwise, that's where the 'slur' part of the name can come in. If you're inexperienced and don't pace yourself, Slurricane can hit you pretty strong and fast.
QUICK TIP:
If you're worried about an overwhelming hit, consider having a CBD vape on hand to quickly counter and balance out the THC.
Where to Buy Slurricane Strain:
Obviously things vary from state to state, but you should be able to find Slurricane in your local dispensary, as well as the usual reputable sources online.
But we'll repeat what we said in our last strain review:
It's always best to buy organically grown strains that are free from any artificial pesticides or fertilizers. Check the source.
And ask for its laboratory test result. The certificate of analysis or COA guarantees the product's safety and quality. It shows the product is free from contaminants like microbes or heavy metals. All of which you definitely want to avoid ingesting!
Products in this article:
View