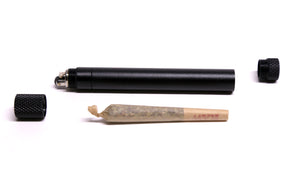 New weed gadgets and cannabis accessories are coming out every day. These days it can be tough to keep up with all the innovation in this industry. As such, we wanted to take the time to introduce you to one of the most innovative tools for any stoner out there: the metal joint holder. You are in for a real treat today - traveling with doobies will never be the same after you see this incredible tool!
Our goal at Smoke Honest is to be on the frontline of product creation with our modern smoking accessories. We are innovators at heart, looking at every aspect of a product to see how we can make it better. For years we've been smoking joints and have always had the issue of carrying joints on the go. If you love a good joint every once in a while (or every day), you know this struggle yourself.
Traveling with a joint is never easy. Joints can get bent, folded, and break open. Pant pockets, jacket pockets, backpacks, and bags are all common storage cases for a joint in today's world. Let's face it though - these fall short, and have ruined a smoke sesh before it even began far too often.
There has to be something better, right? Is there not something specifically suited to hold a joint?
As a matter of fact, there is. Today, we're going to unveil your new favorite smoking accessory: The Stashlight. This Metal Joint Holder, Doob Tube, and metal lighter all in one. Let's break it down for you.
What Makes Our Metal Joint Holder So Special?
We know what you're thinking - I've seen joint holders before. What makes this metal joint holder so special?
Well, the fact of the matter is that this isn't just a metal joint holder. Sure - it's going to keep your doobies safe and protected on your journeys every step of the way. You'll never deal with the frustration and disappointment of reaching for your joint only to find it's busted in half.
But this metal joint holder goes much further than just getting your doobie from location to location. To help you fully understand why this deserves a place in your smoking arsenal, let's examine the design:
The Stashlight
The Stashlight is not just a joint holder. The Stashlight doubles as a lighter. At just a quick glance, this is pretty cool. But think a bit deeper about what this revolutionary device means for you: you'll never end up at the smoke spot and discover you've left your lighter behind again! There is nothing worse than going through the work of rolling your joint, traveling to your favorite hiking spot or park location, and pulling it out only to realize you have no way to ignite it. The Stashlight solves this age-old problem.
We want to make your life simpler. Now you only have to carry one small doob tube wherever you are going. The perfect weed gadget for any hike, trip, or car drive. The Stashlight's lighter gadget uses lighter fluid which can be commonly found at any hardware or grocery store. This lighters metal, so it's very strong and sturdy and won't break. The lighter portion is very similar to a Zippo lighter, allowing you to smoke even if it's windy. Smoke on the go.
Joint Holders
Joint holders are usually plastic and disposable. They are not typically discreet. We wanted to create a joint holder case that you could take anywhere without anybody knowing what it was. Black and silver, our joint holders are not clear, so nobody can see the contents of what is inside. We know you want to be discreet - which is why we also wrote an article breaking down the best stealth pipes for weed - these are great for on the go as well.
Doob tubes that are given to customers buying prerolls can immediately be replaced by a metal multi use tool that enables you to store your joint or blunt and light it. 
Doob Tubes 
Doob tubes might be slightly smell proof, but the Stashlight is an entirely different beast. Made out of aircraft-grade aluminum, the Stashlight is able to prevent almost all of the smell from escaping the joint holder. Most people won't be able to smell anything even if the Stashlight is directly under their nose. This eliminates much of the stress you feel of traveling in public settings with the pack on you. Nobody will smell a thing - no matter how potent your weed is!
Additional Features Of Our Metal Joint Holder: 
Holds joints up to 3.2" (83mm) long (1-1/4 size cones/pre-rolls)
Self contained wind-resistant refillable flint lighter
Slim portable size
Lighters metal
Durable aluminum construction
Air-tight, water-proof, smell-proof
Includes removable key ring loop for your convenience
So - what are you waiting for? Get the Stashlight today- you deserve a joint holder that doesn't just keep your doobies safe and discreet - it also helps you light up when the time comes. Why not get two birds stoned at once? No need for multiple tools - this thing does it all.
While you're here, take a look at our portable bong and discreet pipe - these are quickly becoming the best water bong and best hand pipe on the market. Take a look and see what makes them so special - you won't regret it!
Products in this article:
View