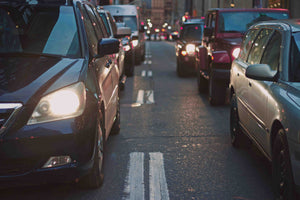 You don't want your bowl piece looking like those clogged roads above.  Introducing, the Debowler Tool.
Debowler Tool
Built into Smoke Honest's Path Pipe lies a sneaky sleek addition that was only released in the 2nd version of the Path Pipe. The feature, our very own Debowler Tool. This Debowling tool comes in your Path Pipe but it can also be purchased separately. The reason we sell it separately is because we had so many customers asking if they could buy more debowler tools for their other smoking accessories. 
Debowling Your Clogged Bowl
Bongs, rigs, and other smoking accessories can get clogged so easily. Frustration mounts fast with clogged bowls, causing people to bang them on tables to get leftover ash out. We ourselves have broken bowl pieces this way before. Frustration happens, and so do clogged bowls. Our debowler fits into any modern size bowl hole and can easily unclog and scrap away the ash that is leftover from previous bong rips. 
The great thing about our debowler is it's only $9, and we don't charge for shipping. $9 saves you all the frustration, broken bowl pieces, and wasted time trying to unclog your bowl piece other ways. Give it a try, it's only $9 :)
Check it out here: Debowling Tool
Products in this article:
View